7 Things To Do on the Sunshine Coast with a Young Family
Never, ever be bored again!
Escape to the Sunshine Coast and submerge yourself in all of its incredible delights! With an incredible variety of things to do we've picked some that will keep the kids happy while creating amazing moments and lifelong memories for the whole family!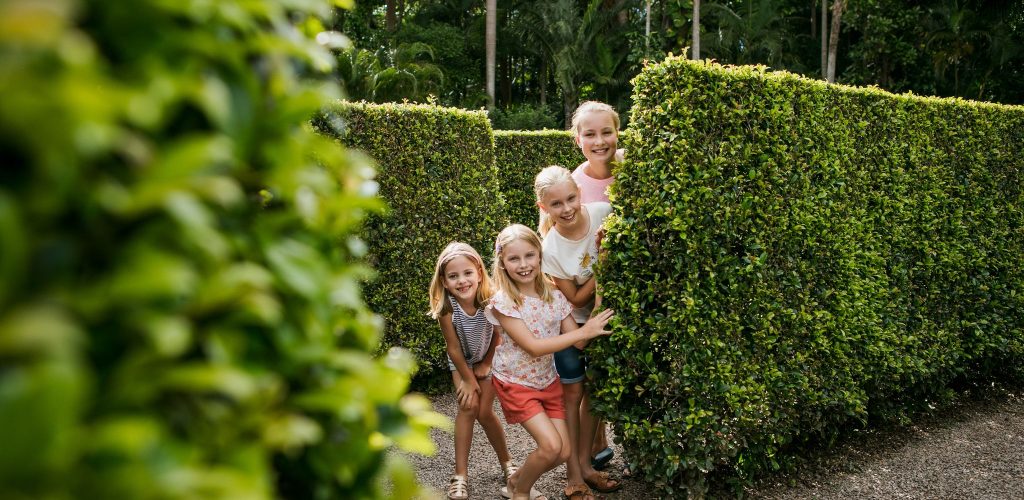 1. Get lost at AmazeWorld
Step into the world of Mazey where a magic waterfall greets you and riddles confuse you. As this forest trickster blends into the shadows of AMAZE WORLD you will be introduced to his friends through the Augmented Reality experience in the impressive Hedge Maze where you willingly get lost, before going on to compete for the overall champion status of Mini Golf. 
Filled with colour and beautiful natural gardens, additional mazes and games will delight while wonderful smells excite the senses from the café that sits quietly beside Mazey's aMAZEing playground and small waterplay area. Enchanting and delightful AMAZE WORLD will keep you occupied for hours.
For more information see them here or go to their website:  amazeworld.com.au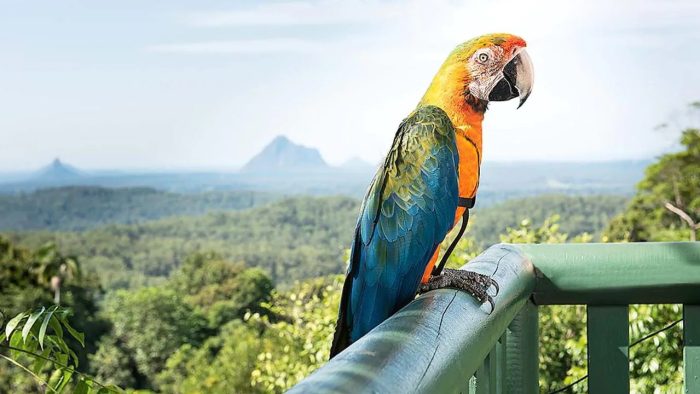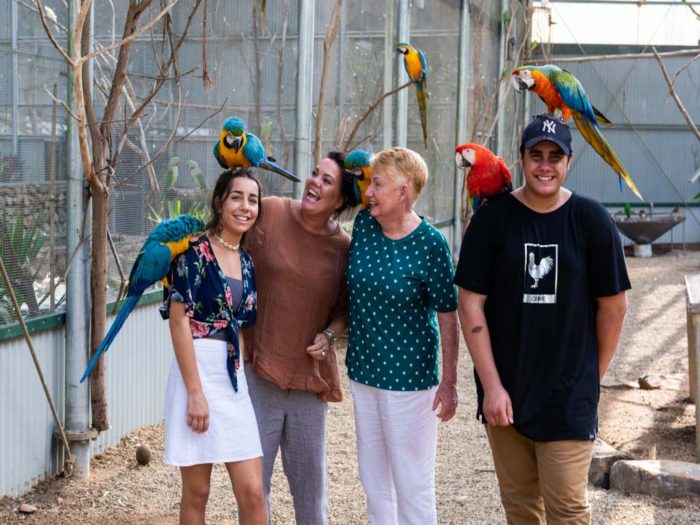 Above: The bird life at the Maleny Botanical Gardens
2. Discover Bird Wonders and Wonderful Views
MALENY BOTANIC GARDENS & BIRD WORLD captures the glorious sights of the Glass House Mountains through its impressive 18 acres of gardens. Featuring incredible photo opportunities and perfect picnic spots, an onsite café also gives you glorious combinations that are sure to excite the taste buds. Then experience the sights, sounds and incredible colours of the 700+ species of both native and exotic birds that will leave you completely in awe! Such an incredible location that shouldn't be missed!
For more information see them here or go to their website:  www.malenybotanicgardens.com.au
Above: SEA LIFE Sunshine Coast has fascinating creatures and interactive exhibits
3. Underwater fun at SEA LIFE
Exploring the sea should definitely on your list. Beautiful and sometimes intimidating the creatures of the ocean float, swim and glide through your vision as you meander through the tunnel, the walkways and will then have you dipping your hands in for a careful touch of the underwater world of SEA LIFE.
Seals and penguins will also capture your heart as you explore their islands, then play in the adventurous coral play area, dine at the Aqua café and witness the Jellyfish Kingdom. So much to do and sea at Mooloolaba's SEA LIFE.
For more information see them here or go to their website: www.visitsealife.com/sunshine-coast/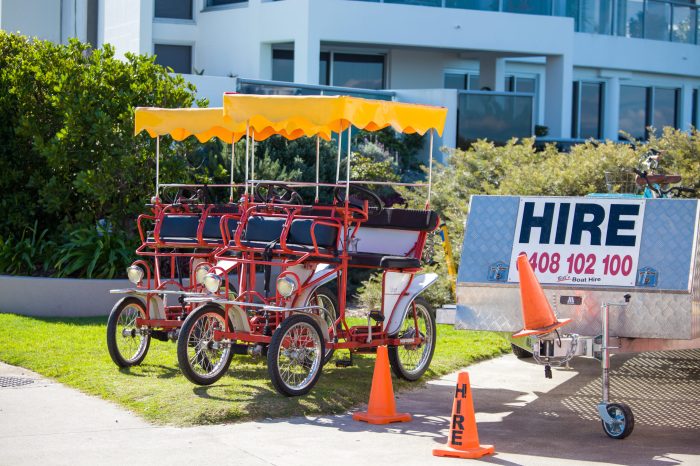 Above: Try 4WD bike hire at Bill's Boat Hire or electric bikes with dickey seats and trailers at EcoTekk. 
4. Bike and Walking Track adventures
If you inspired to take in our incredible scenery further the Sunshine Coast has some awesome walking tracks that cater for different levels of fitness. Mount Coolum will have you climbing 208 meters high by stairs and paths to then view the incredibly beautiful expanses between the hinterland and ocean. Stroll along the Mooloolaba esplanade to dip your toes into the sea, play on the beach, enjoy some local prawns, watch the sun set or play on the beachside playground. 
Hinterland walking adventures include a cooling stroll through the living museum of the rainforest at Mary Cairncross Scenic Reserve  or Mount Ngungun where the rock overhang shades you before you venture higher to one of the social media photo hot spots at the top. More information to help you walk through your holiday or leisurely weekend can be found here.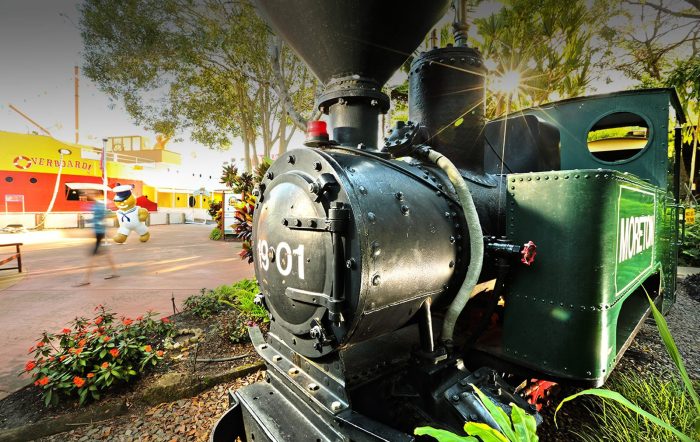 Above: Moreton the Steam Train will take you on a journey around the Ginger Factory Gardens.
5. Play, Taste & Discover at the Ginger Factory
There's so much to see and do at THE GINGER FACTORY too! Ride through the tropical gardens on the ginger train, cruise and watch a story unfold on the animated adventure boat ride, bounce and bounce again on the jumping castle, and enjoy an abundance of other interesting and showcased activities throughout the year. The hungry Gruffalo will also have you looking for him and his friends before building up an appetite to seek out the tempting delicious menu from the Ginger Kitchen. Who knew Ginger could be so much fun!
For more information go to their website: www.gingerfactory.com.au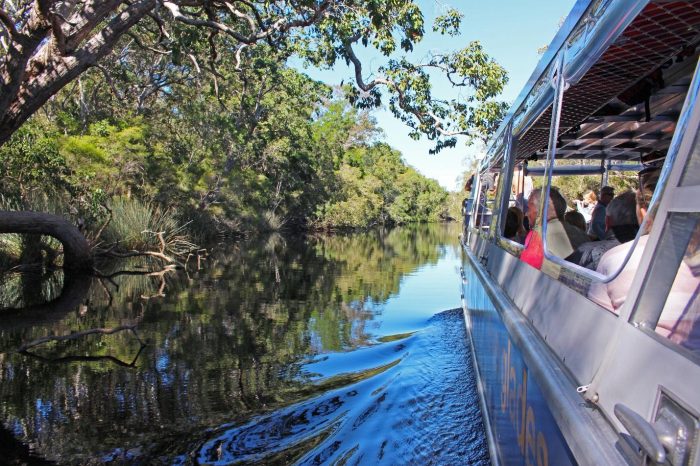 Above: Tranquil cruises with Everglades Eco Safaris. 
6. Relax and Explore the Noosa Everglades
Noosa Everglades has to be on your list of 'things to do'! Explore one of the only two everglades in the world, where these tranquil waterways are known as the 'river of mirrors' and the birdlife is absolutely astounding. Canoe, kayak or cruise around this natural wonderland.  All ages, pram friendly.
For more information see them here or go to their website: evergladesecosafaris.com.au
Above: Aquaduck Adventures are very popular with big and little people.
7. Try an AquaDuck Adventure
Have the best of both worlds – a tour and a cruise at the same time!
These 1 hour tours on the amphibious Aquaduck takes in the heart of the Sunshine Coast, Mooloolaba Beach, the Esplanade, views over the Pacific Ocean and the Sunshine Strip by road. Then splash into the water to enjoy a boat cruise spotting wildlife, experiencing the beauty of the Mooloolah River, the bustle of trawlers in the harbour and the mega mansions lining the canals.
Whilst on the water, kids are invited up to the captains seat to drive the Aquaduck and receive their very own Aquaduck Captain's Certificate.
For more information go to their website: www.aquaduck.com.au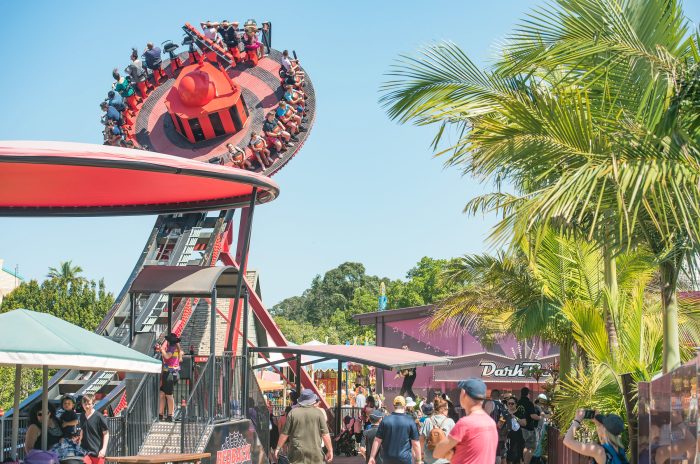 OK, so we added one more! Aussie World is a must when you visit the Sunshine Coast.
8. Aussie World Thrills 
AUSSIE WORLD also has something for everyone! Thrill rides, illusions, slides and side show alley will have you squealing with delight, screaming with fright and smiling with all your might! Authentically Australian food then awaits to put those hunger pains at ease before delighting in the Fun Shop, that gives you unique gifts, toys and souvenirs for everyone!
Find out more about Aussie World here. Buy tickets online.
Having given you a small sample of our delights the Sunshine Coast is a place that gives you the best beaches and then fills your senses through the most incredible adventures and tastes, which then gives everyone those amazing memory moments that will last a lifetime. 
Blog by Myra@ Things To Do Sunshine Coast
Contact us here, or any of these experience operators directly. We'd love to hear your success stories and experiences.