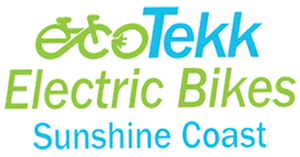 Electric Bicycle Hire and e-Bike Tours
Immerse yourself in our world with an alternative holiday experience that allows you to minimise your impact and maximise your lifetime memories.
@ecoTekkSC offers a unique, environmentally friendly, and thrilling way to explore the beautiful Sunshine Coast – by pedal-assist, electric bicycle. Imagine easily cruising along the hundreds of kilometres of dedicated bicycle pathways, taking in the coastal or hinterland views and immersing yourself in the natural surroundings. Our staff provide a detailed safety briefing and personalised ride options with maps, tips, and suggestions of what to look out for during your hire.  Discover the many hidden treasures here, and engage all your senses with the world around you, re-energising your soul. 
Enhance your adventure by opting for a multi-day hire and really explore our wonderful region. Visit popular attractions like Sea Life, Amaze World, Aussie World or Maleny Bird Sanctuary with the family, or take a romantic e-bike ride along the coastal pathway followed by a joy flight on helicopters or Seaplanes. What about riding to join a cruise from Mooloolaba or the Maroochy River? With our e-bikes, you can access the many excellent activities and attractions on the Things To Do Sunshine Coast website without the hassle of parking problems or waiting for Ubers.
Just book and ecoTekk Sunshine Coast delivers your electric bicycles to you.
International and interstate visitors enjoy the value packed into our e-Bike tours. The owners, Stuart and Tracey, have a wealth of knowledge and experience in marine biology, ecology, and sustainability. As lifelong residents of the Sunshine Coast, they can provide their clients with a deeper understanding of the history, and community as well as the marine, coastal, and hinterland environments alike.
@ecoTekkSC transforms your Sunny Coast getaway into an environmentally friendly holiday with a minimal footprint. Treat yourself, your family, and your friends to an adventure on e-Bikes. There is so much more to do on the Sunshine Coast, like enjoying exploring the sights of our incredible region and building lifetime memories for you and your family! 
Book your e-bike hire or tour with @ecoTekkSC and turn your Sunshine Coast getaway into an epic adventure. Live life to create a great story!
Our e-Bike hire times range from half-day (4hrs min) to multi-weeks (call to book). We have family-friendly e-Bikes options including; Infant seats, Toddler seats, Child trailers, Tag-a-long, 20" e-Bikes for 8 to 12yr olds and various adult-size e-Bikes – small, medium, and large frames. Helmets and locks are supplied, and optional pannier baskets are provided for your picnic supplies, swimmers and shopping bounty.  Half-day and full-day single e-Bike hires are available by calling to book, a surcharge applies.
Our e-Bike Tours cover both the Coastal and Hinterland environs. We can also custom design tours for your group, team bonding or corporate event with our bespoke tours, ideas like treasure hunts, pre-season team training etc, and EOFY team rewards etc.
ecoTekk Sunshine Coast:
+61 473 635 865
sunshinecoast@ecotekk.com.au
Sunshine Coast Region

Hours: 7 days a week 8:30 am – 5:30 pm

Family-friendly: Infant seat, Toddler seat, Child trailer, Tag-a-long
Closed: Christmas Day
Limitations: Must be able to ride a bicycle, 
Max individual rider weight 125kg
Min 2 e-Bikes (single hire call to book, surcharge applies) and Max 30 (people for group bookings)
Children 16 and under must be accompanied by an Adult
No all-abilities access
VIP Offer: 5% off all e-Bike Tours and e-Bike hire when booking online through the TTDSC website
Gift Vouchers: Yes